Potential Corruption in Coronavirus-Related Public Tenders in Georgia
This investigation interchangeably uses U.S. dollars (USD) and Georgian lari (GEL) as currency measurements. As of publication, $1 USD equals 3.1 GEL, e.g. a 31,000 GEL contract is worth about $10,000.
In response to a massive spread of the coronavirus globally, on the 21st of March Georgia joined the list of countries that declared a State of Emergency. Initially, lifting the state of emergency was planned on April 21, but the Georgian government decided to extend the restrictions for another month, until May 22. Georgia continues to defer their decision to re-open their borders to most countries.
Decades of research show quite clearly how emergency situations promote corruptive practices, with one analyst noting that "Opportunities to engage in corruption are particularly high in emergency contexts, where controls are weak, funding levels and media pressure are high" (Schultz & Søreide, 2006). With the coronavirus pandemic and the sudden need for new government services, instead of utilizing electronic tenders, so-called simplified state procurements take place in Georgia. This practice implies awarding non-competitive government contracts to companies, which may result in graft and breaches that include bribery, favoritism, influence peddling and self-serving purposes of the ruling party. 
According to Transparency International, the practice of awarding contracts to suppliers in an environment without fair competition places companies with political connections into privileged positions, often allowing them to triumph over their competitors that may actually be better suited to provide the contracted services. As a result, corruption increases the cost of public services, reduces the quality of work or services, and strengthens political influence of stakeholders.
Taking into account that 2020 is election year for Georgia, the electoral system has been changed to use proportional representation, and according to the the National Democratic Institute's latest public opinion poll, the overall rating of opposition parties is higher than that of the ruling party Georgian Dream, it is especially urgent and vital that the government maximizes their financial and administrative resources in response to the coronavirus pandemic. 
Since the first responses to the COVID-19 and especially during the state of emergency, there has already been a wave of suspicious state procurements and non-competitive contracts between the Georgian government and number of companies, many of which have owners who are notable donors  to the ruling Georgian Dream party and linked to public officials.
This investigation focuses mainly on two areas of procurement that have arisen as a response to the coronavirus pandemic –purchases required for the Georgian healthcare sector and hotel expenses used as quarantine zones. In the first case, the major acquirer is the Ministry of Internally Displaced Persons from the Occupied Territories, Labor, Health and Social Affairs of Georgia (hereinafter, Ministry of Health), and in the second case the Georgian National Tourism Administration and the Department of Tourism and Resorts of the Autonomous Republic of Adjara.
Procurements in the healthcare sector
According to the latest research of the IDFI, a number simplified procurements for medical equipment and materials performed during the current emergency situation were signed with recently-established companies. It is worth noting that a number of these companies who received state procurements did not operate in the medical field, and many have senior staff who are notable donors to the ruling Georgian Dream party.
Taking this trend into view, we started to check the suppliers with whom the Ministry of Health reached contracts. Below, we detail a number of suspicious state procurement contracts related to the Georgian government's response to the coronavirus pandemic, focusing on those that were given to newly-established companies, notable donors to the Georgian Dream party, and to companies without any readily-apparent experience in the area of the awarded contracts. In each of these, we show the original records of the contracts, along with basic information on the companies awarded the contract and their beneficial owners, when relevant. 
One of the suppliers is Weekend Ltd, which from 8 April 2020 to 10 June 2020 signed contracts with a number of different state departments and acquirers, overall amounting well over a million dollars. The most sizable procurement was from the Ministry of Health, amounting to $1,329,680 (USD). 

Bondo Goletiani, who contributed 25,000 GEL to the presidential campaign of Salome Zurabishvili, owns 100% of the shares of Weekend Ltd. Zurabishvili is the so-called independent candidate backed by the ruling Georgian Dream party.

Bondo Goletiani also owns shares in other businesses, such as Restaurateur Ltd. and Georgian Mobile Import Ltd., where his business partners and family members Chichiko Goletiani and Lekso Goletiani are listed. Chichiko and Lekso have also donated to Zurabishvili's election campaign, totaling 42,996 GEL. These donations were made on the same day. Another business partner of Goletiani, Shalva Eristavi, has donated 60,000 GEL to the campaign. 
---
Another interesting purchase agreement was made with Ad Media Ltd. to supply 40,000 three-layered facemasks (invoice here). 25% of the company's shares are held by Sergo Galustyan, who has financially supported Georgian Dream and Salome Zurabishvili by donating 100,000 GEL during election campaigns. 

Sergo Galustyan owns a company Respirator Ltd, which he registered on 15 April 2020. The next day – April 16th – this newly-registered company received an order to produce 4 million facemasks for the Cartu Foundation, owned by Georgian billionaire and former prime minister Bidzina Ivanishvili. These procurements have previously been investigated by the IDFI.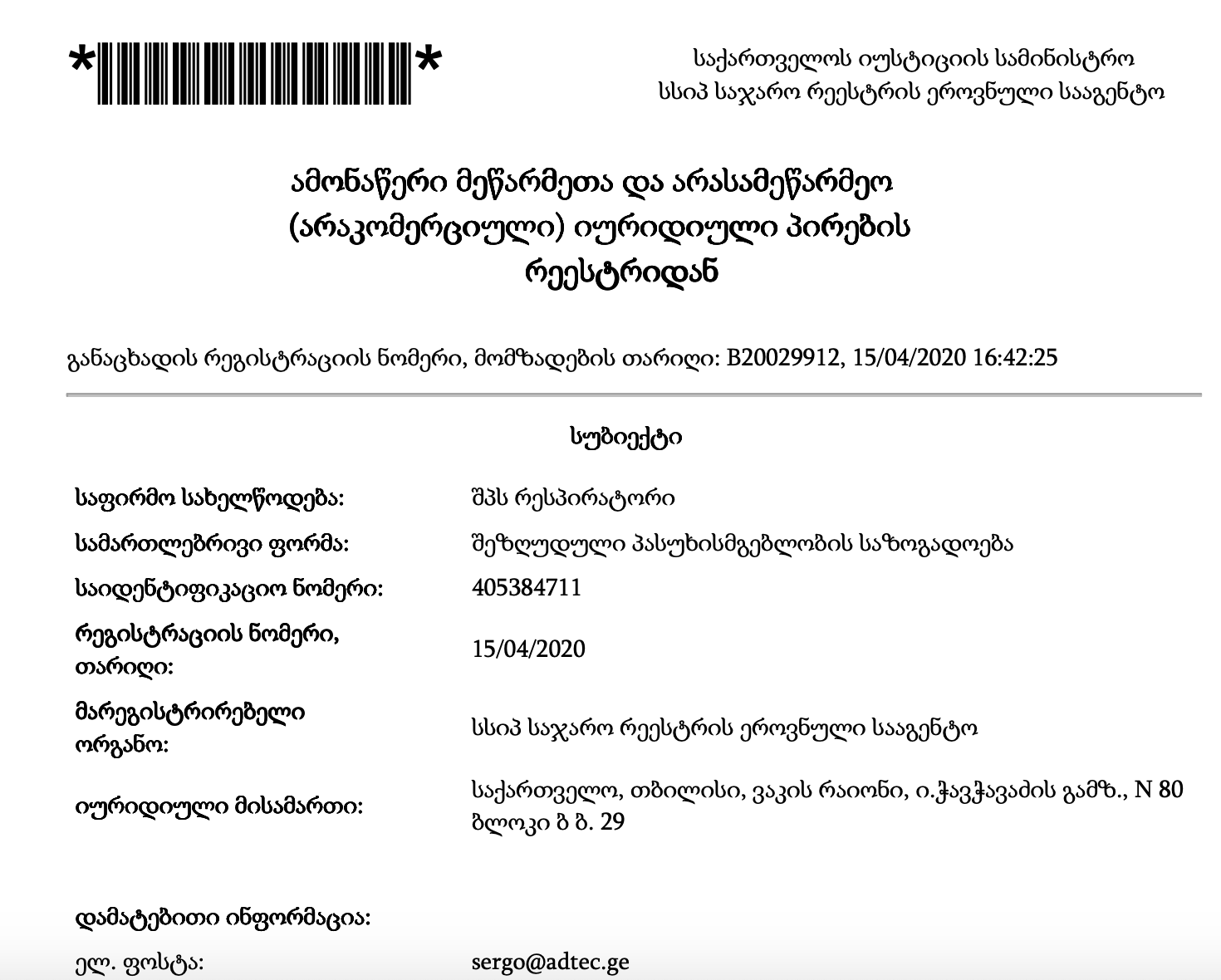 ---
The Ministry of Health signed the procurement contract with another supplier company, GEOFERRUM Ltd, and ordered biological protection suits. In this case, what is unusual is that the main activity of GEOFERRUM is the realization of metal building materials. Even though the company was founded on 21 May 2019, it was the first time it participated in public procurement and immediately received 521,700 GEL. 

Another peculiarity that arises is that the founder of the company, Levan Lursmanashvili, also owns a 100% share in Geoortho Ltd, an import and distribution company of medical goods with a rich procurement history. Why would one sign a contract on medical equipment goods on behalf of the company with a different field of activity, if they owned another company specializing in that exact field? The answer is simple: Geoortho Ltd is currently blacklisted from public procurements, on behalf of committing an "unscrupulous act in order to obtain the right to enter into a public procurement contract" (According to the Order of the Chairman of the State Procurement Agency, Command 7, Article 1, Aa).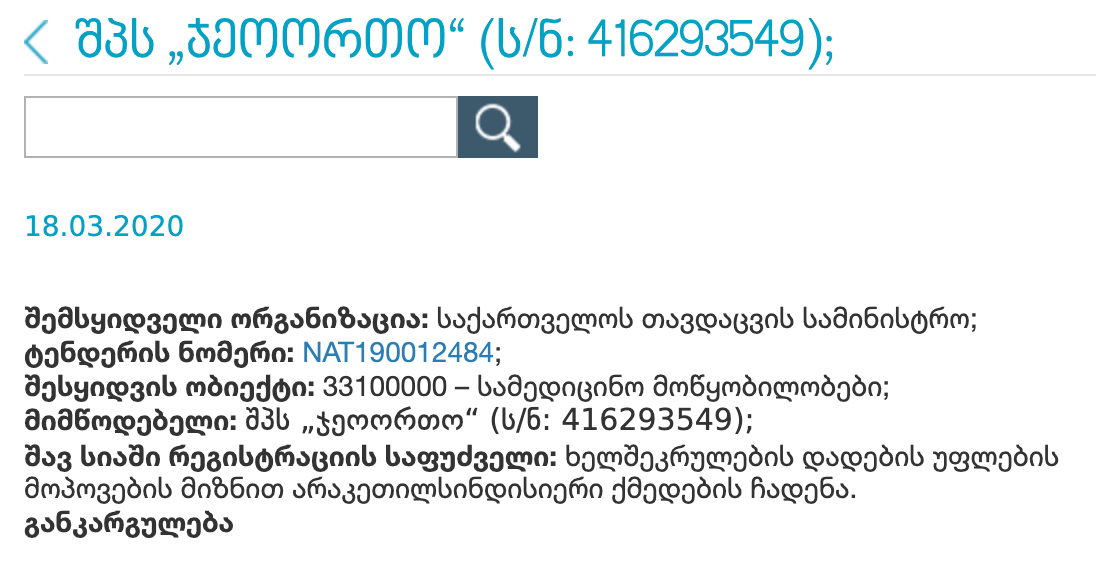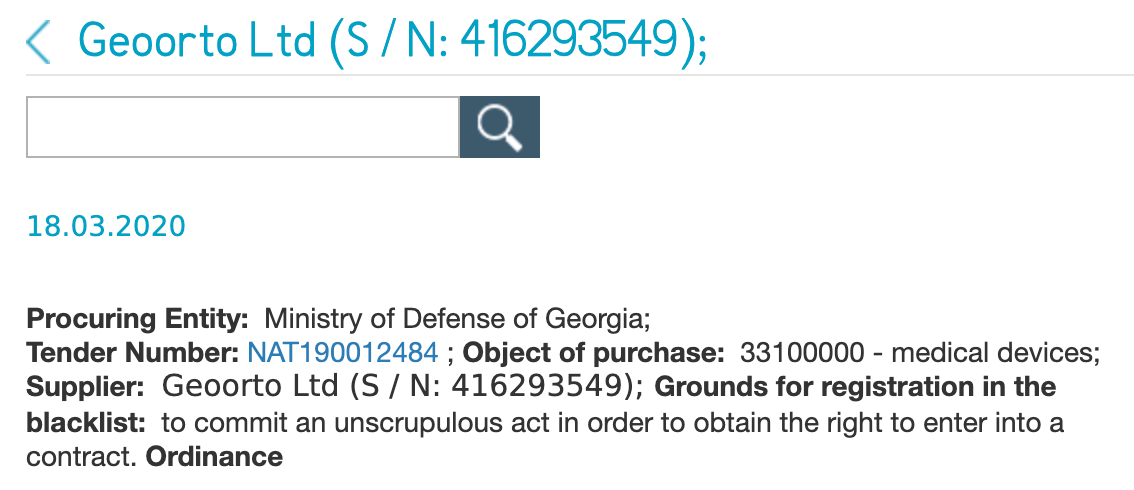 *Translated screenshot via Google Chrome Extension – Correct name of the company in English is not Geoorto, but Geoortho.
Levan Lursmanashvili is listed among those who have donated to the Georgian Dream in 2016, and to Salome Zurabishvili in 2018 (35,000 GEL overall).
Lursmanashvili also holds 50% of shares in Tandem Ltd, the other two shareholders of which, Mamuka Khelaia and Davit Kapanadze, have also donated to the Georgian Dream party and Salome Zurabishvili's election campaign, totaling 60,000 GEL. 
---
Another questionable purchase is related to the agreement signed with the Sheild Ltd about supplying medical devices, in particular disposable caps and shoe covers. Interestingly, the company was registered on 10 April 2020 and was able to sign procurement agreements in less than two weeks.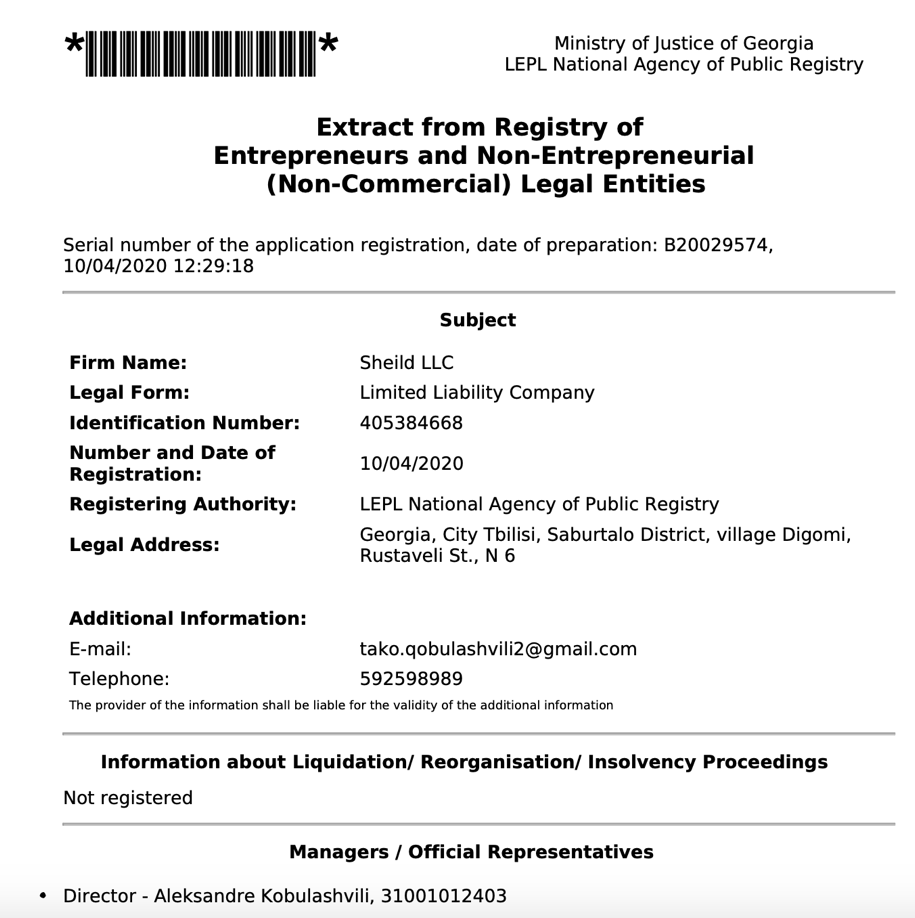 ---
The same rapid-fire sequence of company registration to state procurement agreement repeats in case of TNK Ltd, which was found on 12 February 2020 and signed a simplified purchase agreement two months later with the Ministry of Health on 21 April 2020.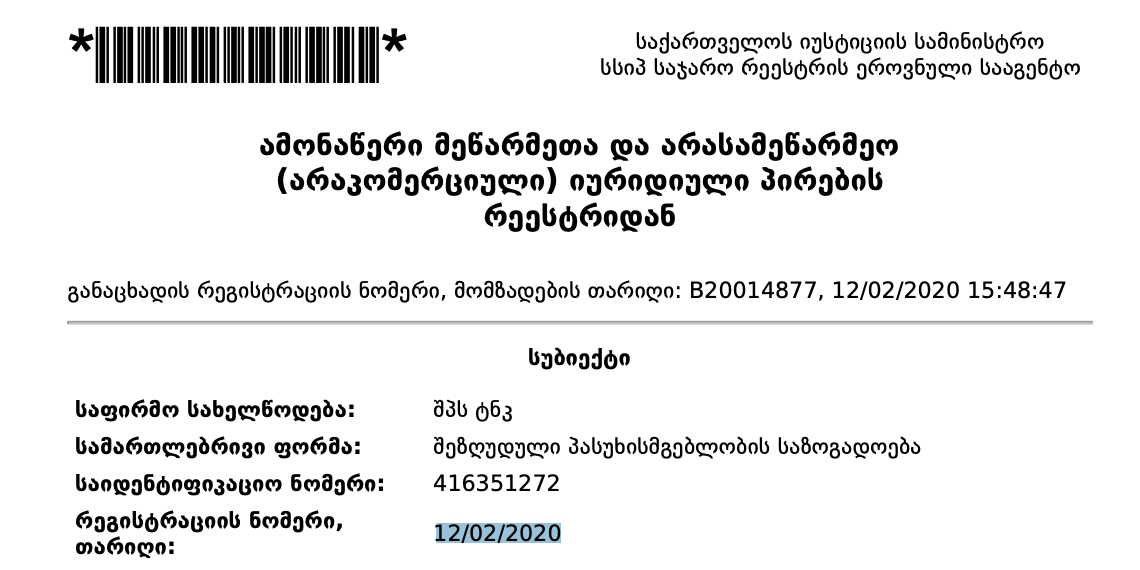 ---
Another newly registered company receiving government procurements is Elit Medical Ltd, which was established on 12 March 2020. In just weeks, this newly-established company already received quite a significant amount of money from the Ministry of Health – 704,320.00 GEL.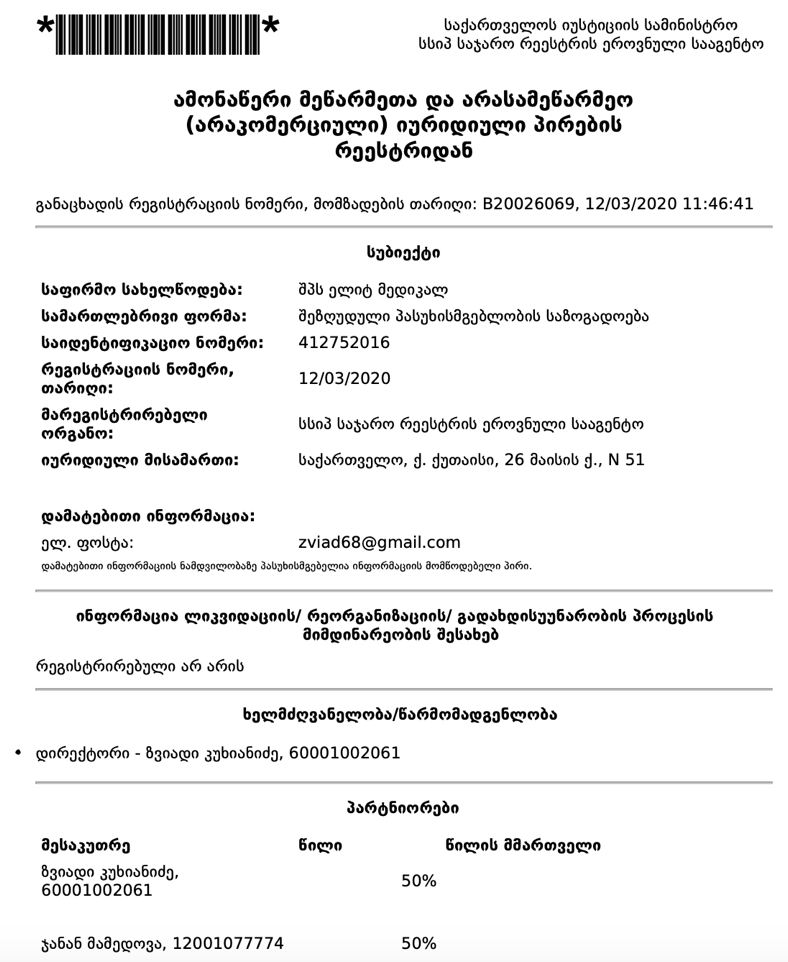 ---
Seventeen simplified purchase agreements amounting to 2,160,613 GEL were established between Doctor Goods Ltd and state agencies, the biggest of which were from the Ministry of Health and National Tourism Administration.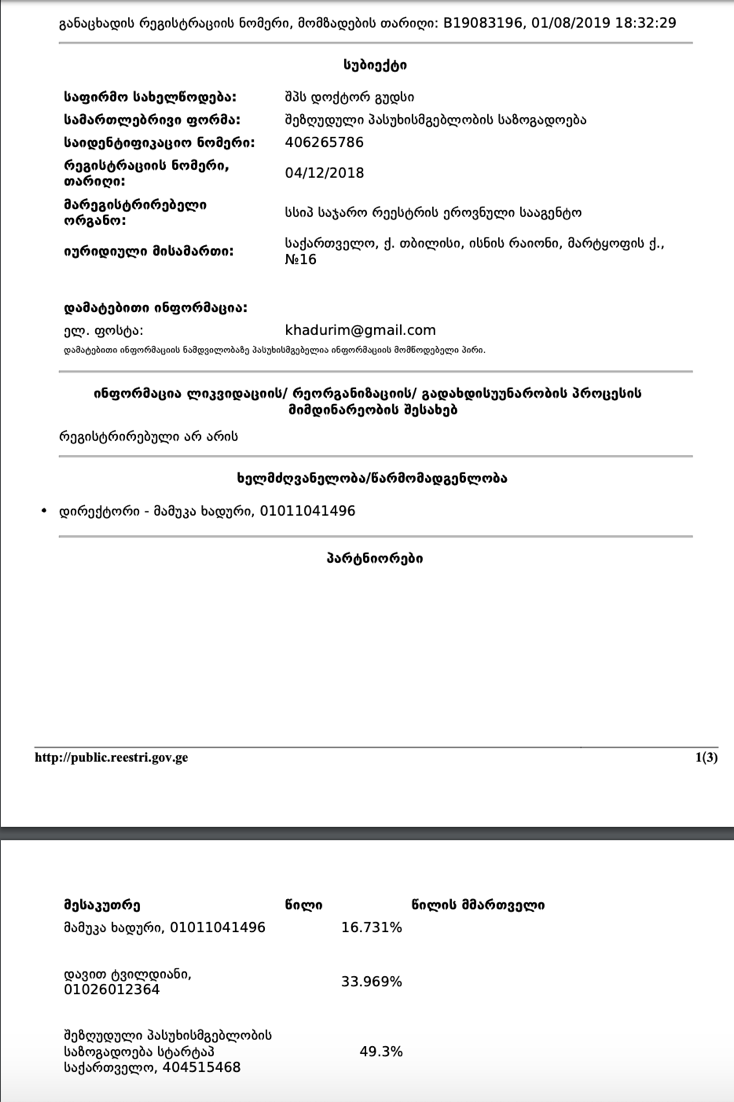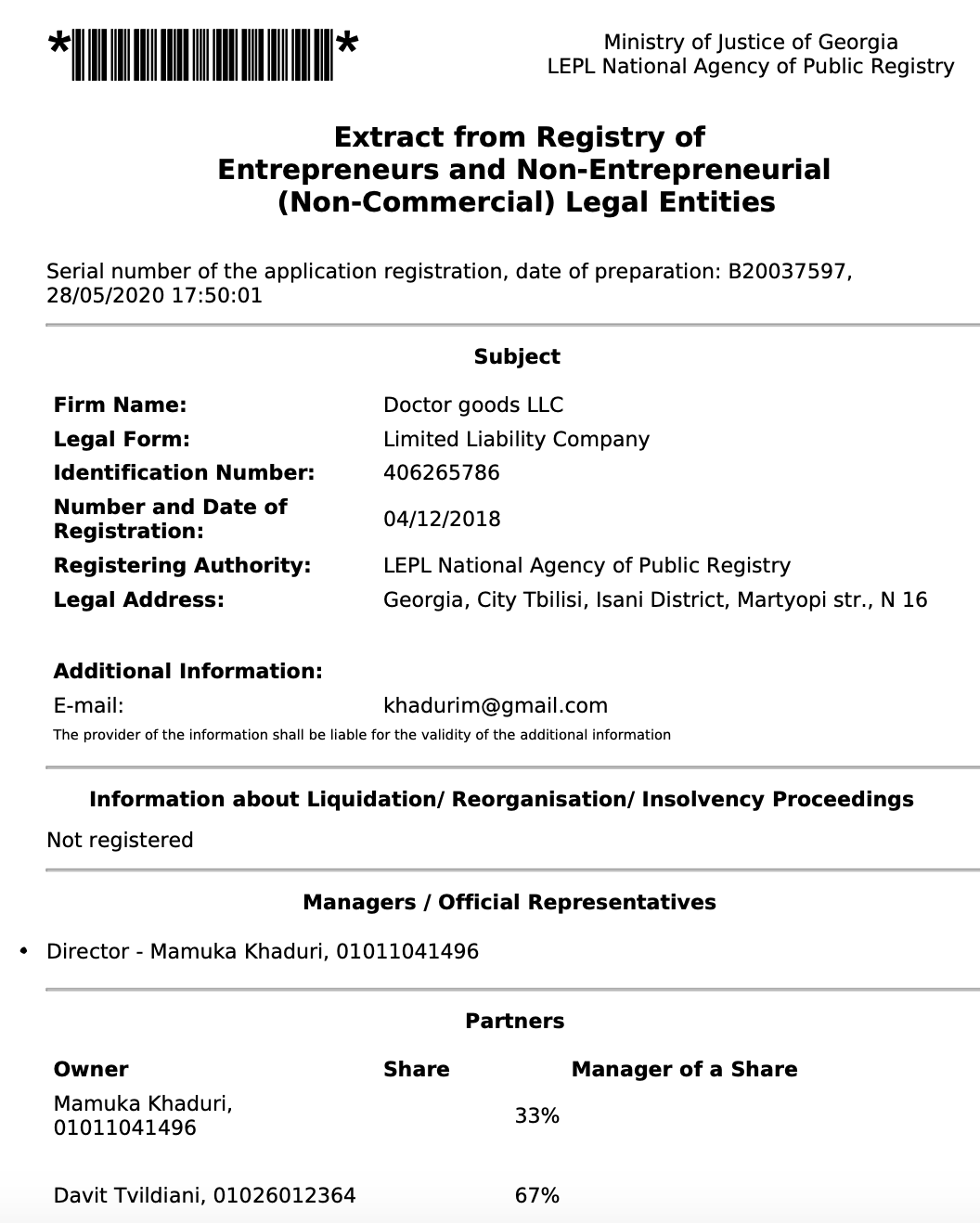 As we see in the sequence of the images above this paragraph, Doctor Goods Ltd had three shareholders, out of which 49.3% of shares were owned by Startup Georgia Ltd until 28 May 2020. After the given date, the shares in Doctor Goods Ltd are distributed between Mamuka Khaduri and Davit Tvildiani Presumably, these changes in ownership occurred because of recent interest in the company's ownership and activity in opposition circles. 
It is noteworthy to mention that Startup Georgia was established and 100% owned by JSC Partnership Fund, which is a state-owned investment fund. The Executive Director of the Partnership Fund is David Saganelidze, a former MP of Georgian Dream who also donated to the party in 2013.
Interestingly, in this JSC Partnership Fund, the Deputy CEO for five years was Natela Turnava, Minister of Economy and Sustainable Development of Georgia.

---
As seen in these series of examples, with simplified procurements there is an increased risk that state budget funds will be concentrated in companies with stakeholders who have donated to the ruling party or are affiliated with government officials. While some of these companies may actually be fit to service the agreed-upon contracts, it is difficult to say this with any certainty when a company was established mere weeks before receiving hundreds of thousands of Georgian lari in taxpayer funds.
Procurements to create quarantine zones 
The government of Georgia published information on the arrangement of quarantine sites on 20 March 2020, deciding that from March 21, all citizens who crossed the Georgian border will be quarantined under the supervision of doctors.
As a necessity to operate these quarantine zone, the Georgian National Tourism Administration signed contracts with a number of companies for the placement of incoming individuals in quarantine zones for 26,432,000 GEL (about $8.5 million USD). These agreements entered into force on March 19 and ended on May 1. FactCheck.ge published a list of quarantine zones, the number of allocated places for patients, and the amount of state funding. This information allows us to follow up on potential conflicts of interest and graft from these contracts.
In the case of simplified procurements, there is a risk that the state budget will be concentrated in companies that donate to or are associated with the ruling party, so we were interested in checking the list of quarantine zones. Based on the data, we checked the companies and we were interested in a number of entities, which are listed below along with information about their beneficial owners/partners, contracts, and other relevant information.
---
Group Inn, which owns Iveria Inn, Gudauri Inn, Bakuriani Inn, and Royal Inn, signed an agreement on March 13 with the government for rooms to be used in a number of their subsidiaries.
Per this contract, 197 quarantine rooms were issued in Iveria Inn, with a contract value of 1,488,640 GEL ($480,200 USD). The contract with Gudauri Inn was signed on March 13, with a cost of 700,000 GEL ( $225,800 USD). Also on March 13, the Bakuriani Inn allocated 154 places for GEL 675,740 ($217,980 USD). One of the main partners of Group Inn is Paata Kokaia, who owns 40% of the Gudauri Inn, 35% of the Iveria Inn, 20% of the Bakuriani Inn, and also supports the Zurabishvili Fund.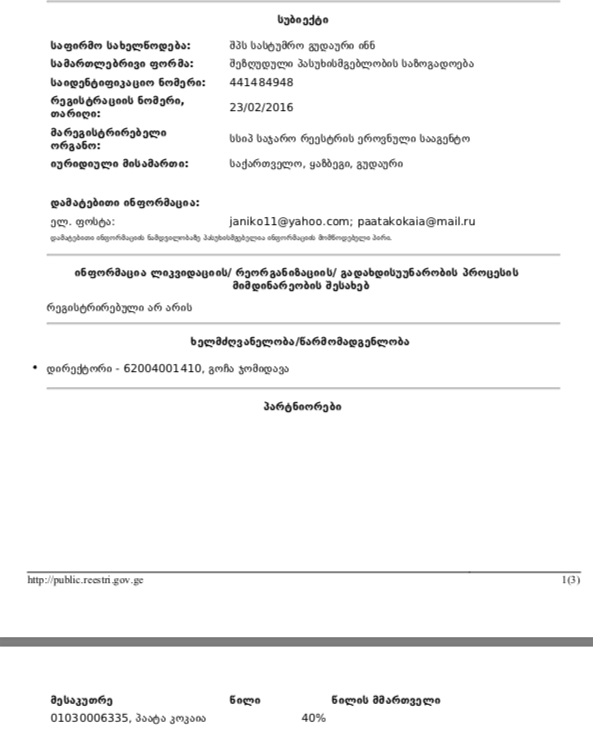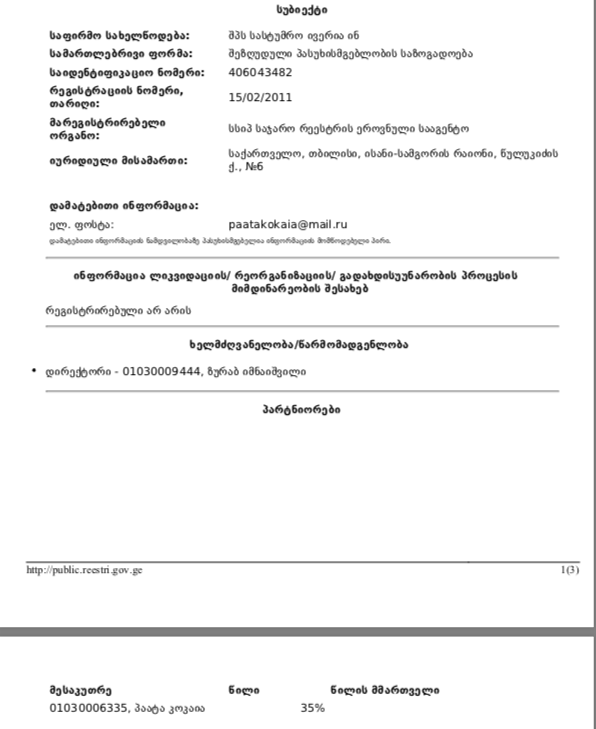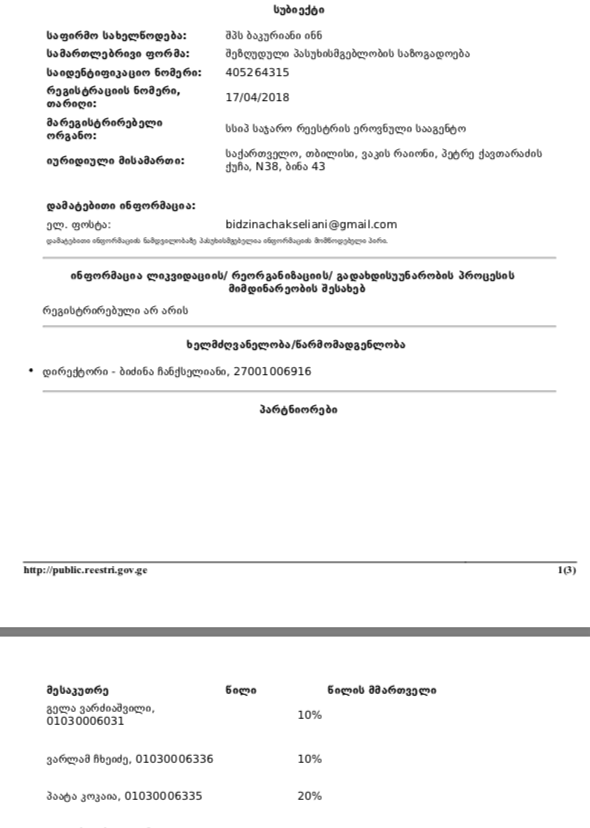 In 2018, Kokaia gave 55,000 GEL to Salome Zurabishvili. 

Revaz Tavartkiadze, a former director of Iveria Inn, donated 10,000 GEL ($3,225 USD) to the Georgian Dream party.

---
Another notable company that was awarded state procurements is Kvareli Edem, whose director is Alexandre Magradze. Transparency International has previously written on donations from its beneficial owners/directors and state procurements:
''On March 20 and 23, 2020, the owners and directors of Kvareli Edem LLC donated a total of GEL 65,000 ($21,000 USD) to Georgian Dream . Within a few days, this company received a contract worth GEL 277,300 GEL (89 450 USD) through a simplified procurement from the Georgian National Tourism Administration."
Furhter corroboration of this claim from Transparency International can be seen below, with company records, donation confirmations, and state procurements.
On 20 March 2020 (the day that quarantine zones were announced by the Georgian government), Magradze donated 5,000 GEL to the Georgian Dream party.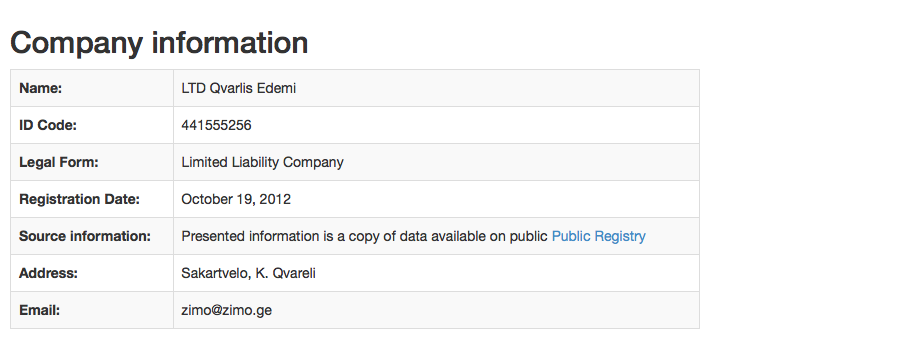 Kvareli Edem''s main partner is Zimo Ltd, owning a 50% share of the company.

Zimo also supports the Georgian Dream party, having donating 100,000 GEL in 2019.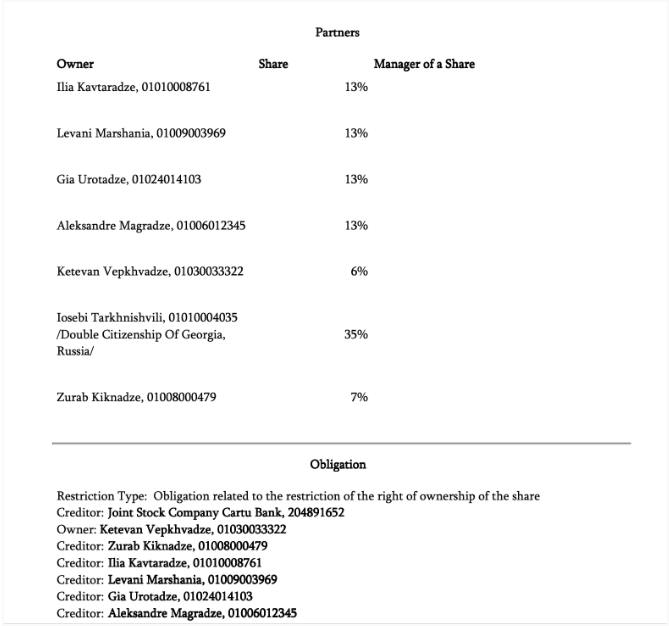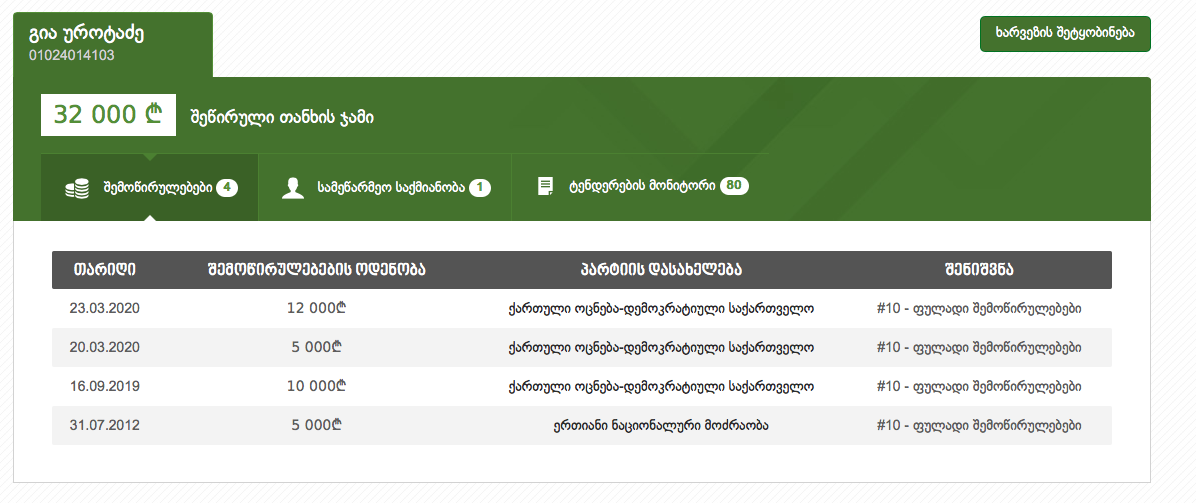 ---
Another company, Kakhuri Traditsiuli Meghvineoba LTD, allocated 81 places for patients of COVID-19 in the amount of 185,670 GEL ($61,890 USD). This company has donated 120,000 GEL to Georgian Dream twice, totalling 240,000 GEL.
Zurab Chkhaidze, director of Kakhuri Traditsiuli Meghvineoba LTD, has donated 60,000 GEL to Salome Zurabishvili.

Zurab Chkhaidze is, along with his brothers, a co-founder of Askaneli Dzmebi Ltd. Zurab's brother Jimsher Chkhaidze has donated 10,000 GEL ($3,225 USD) to Georgian Dream.

Danger of corruption and mismanaged procurements ahead
As unforeseen and crisis situation lead to increased demand in goods and services and create more space for urgent actions, the ongoing coronavirus crisis poses the risk of mismanaged procurements, as well as the risks to corruption.
While performing simplified procedures of procurement, Georgian law on public procurement fail to ensure transparency, fair competition, selection of suppliers and other detailed criteria for selection and handover processes. 
Our investigation shows that beneficial owners and stakeholders behind a large number of companies — many of which were established during the onset of the coronavirus pandemic — participating in public procurements are also financial supporters of the ruling Georgian Dream party and President Salome Zurabishvili, thus, raising concerns about corruption. Going forward, increased public pressure should be placed on the selection process of vital public contracts to ensure efficient services to Georgian citizens during a time when state actions are a matter of life and death.
Selected reading on coronavirus-related corruption in Georgia and public procurements: