The Russians and Ukrainians Translating the Christchurch Shooter's Manifesto
On August 10, 2019, a 21-year-old man reportedly murdered his 17-year-old stepsister before attempted to attack a mosque just outside of Oslo, Norway; he managed to injure only one person in the attack.
The Norwegian claimed he had been inspired by another 21-year-old man in El Paso, TX, whose massacre on August 3 was driven by, according to a 2,000 word manifesto the American had written and published online, a hatred of immigrants and people from Spanish-speaking parts of the Americas, particularly Mexico. 
Both of these 21-year-old men were inspired chiefly by what one 28-year-old Australian did on March 15, 2019, in Christchurch, New Zealand, when he undertook one of the most horrific mass murders in recent memory, one that he even livestreamed and recorded for posterity.
These two men in August (we have chosen not to name them) were inspired by what the Christchurch shooter published on the internet and emailed to dozens of people minutes before he began his massacre back in March. A rambling document that runs more than 70 pages, the Christchurch shooter's manifesto outlines, both with dead-serious aplomb and in-the-know shitposting, why he chose to perpetrate one of the most vile acts of far-right terror possible. And, five months after the attacks, it's still not hard to find the manifesto online.
But what if a budding far-right extremist wants to read it and doesn't speak English? Unfortunately, a multilingual global community of violent far-right extremists has them covered.
In a testament to the increasingly transnational nature of violent far-right extremism and the global reach of far-right ideologies, Bellingcat found at least fifteen translations of the manifesto online. Whether French, German, Spanish, Croatian, Hungarian, Polish, Ukrainian or Russian, among others, the Christchurch shooter's manifesto is available to read for hundreds of millions around the world who don't speak English or would prefer to read the rambling screed in their native tongue.
It's not a short document to translate; the manifesto, in its original English rendering, runs more than 70 pages. But it shows just how much effort some far-right extremists are willing to put into making their hateful ideas a reality. One 4chan user (where the original manifesto was posted before the March 15 attack) shared a translation they apparently made of the manifesto into Bulgarian; the user claimed it took them three straight days to do.
At the Bellingcat Monitoring Project we've chosen to take a look at two translations in particular: the Ukrainian-language and Russian-language translations of the Christchurch shooter's manifesto, and how they are being promoted online, especially on the social media app Telegram. These two translations serve as unfortunate case studies of how the extreme far-right is truly becoming more and more transnational.
The Ukrainian translation: out in paperback
In Ukraine, one fan of the Christchurch shooter's manifesto has done far more than just share or promote a translation.
This fan is the administrator of a Ukrainian-language Telegram channel with nearly 1,000 subscribers (we have chosen not identify the channel) that features content openly praising and glorifying the Christchurch shooter as well as sharing uncensored neo-Nazi content that explicitly encourages violence. This administrator also shared a Ukrainian translation of the El Paso shooter's manifesto only two days after the attacks.
This administrator of the Telegram channel claimed in a post that, on the urging of another member of the channel, he had made arrangements to produce bound paper copies of a Ukrainian translation of the Christchurch shooter's manifesto. The administrator further claimed in the post they had found a publisher willing to print the translation; by June, according to posts in the channel, the administrator had in his possession the first box of bound copies of the translation.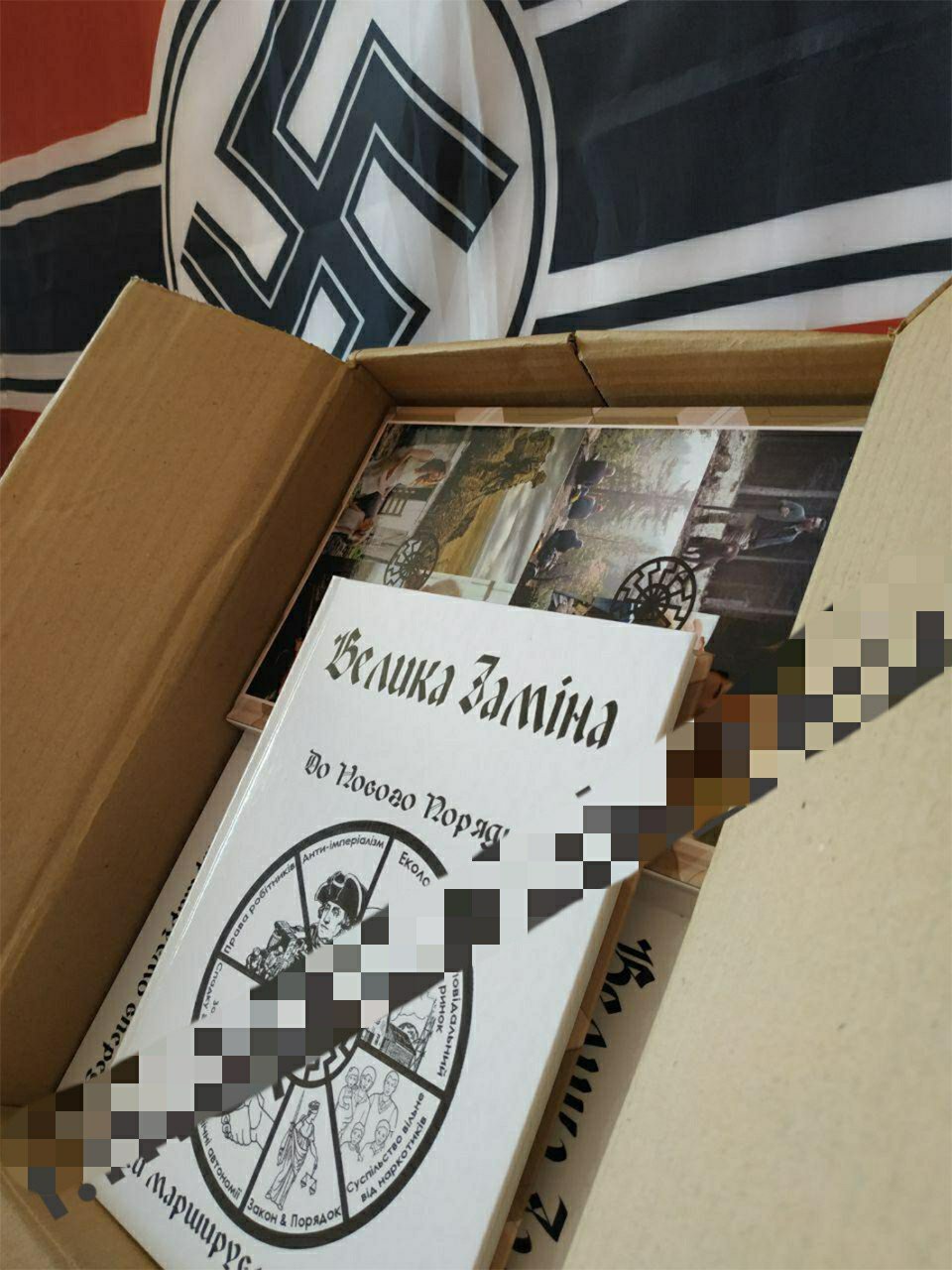 Since then, according to posts in the channel, the administrator has shipped copies of the Ukrainian translation of the manifesto to interested readers for a fee of 100 Ukrainian hryvnias, or around $4. One post even makes reference to an apparent "foreign reader" of the manifesto, who apparently sent back a photo which was published on the channel.
Another interested reader in the manifesto, another post suggests, is a member of neo-Nazi movement Karpatska Sich (Карпатська Січ) — a group who, as the Bellingcat Monitoring Project documented, was involved in actions against KyivPride in June 2019. In a post on their own Telegram channel on August 14, Karpatska Sich openly urged its members to purchase a copy of the translation, encouraging its members to "get inspired" by it.
Another interested reader sent the administrator back a photo that, thanks to other books and paraphernalia visible in the photo, inadvertently gives a quick lesson into what at least some members of Ukraine's far-right are into. Among the books the interested reader has in their collection are at least three books published by the literature club of the Azov movement, as well as a book about radical Ukrainian integral nationalist ideologue Dmytro Dontsov. Also visible is a knife featuring the SS motto and morale patches from two different Ukrainian brands popular with members of the far-right.
It's not clear how many bound and printed copies of the Ukrainian translation have been shipped to interested readers in Ukraine and beyond; with a global population of 33 million Ukrainian speakers, according to Ethnologue, the 'market' for a Ukrainian-language version of an extremist's manifesto is larger than it might be for languages like Hungarian, but smaller than for languages like Russian. Still, there are apparently enough interested readers in the Ukrainian language space to justify the channel administrator's efforts, at least in their mind.
The Russian translation: promoted by literal Hitler worshippers
Russia, it seems, might hold a special place in the mind of the Christchurch shooter. As was reported August 14, the shooter sent a handwritten letter to an individual in Russia from his prison cell that was also posted on 4chan, a letter which reportedly mentioned a month-long trip the shooter himself took to Russia in 2015.
With Ethnologue estimating a global population of over 250 million Russian speakers, with over 150 million speaking it as a first language, there's far more potential reach for a Russian-language translation of his manifesto than Ukrainian or other languages like Croatian, Hungarian or Bulgarian. 
Ironically, however, the biggest online promoters of a Russian-language translation of the Christchurch shooter's manifesto aren't in Russia: they're in Ukraine. A Kyiv-based neo-Nazi group with roots in Russia, Wotanjugend, is behind the promotion if not the translation itself of the manifesto.
According to the authors of Militant Right-Wing Extremism in Putin's Russia: Legacies, Forms and Threats, Wotanjugend developed during the 2000s among the hardcore neo-Nazi music scene in Russia, with leaders and members who "styled themselves as an elite neo-Nazi avant-garde." Many of Wotanjugend's leaders, being anti-Kremlin and anti-Putin, were supporters of the protests on Maidan Nezalezhnosti in Kyiv that mushroomed into a revolution in February 2014. 
As Russian-led forces in eastern Ukraine set off war in April 2014, some Wotanjugend members came to fight with far-right battalions, including the Azov Battalion. Later in 2014 two of Wotanjugend's leaders, Alexey Levkin and Ivan Mikheev, moved to Ukraine where they remain today.
Since coming to Ukraine, Wotanjugend has been able to act openly and with clear connections to the Azov movement. Levkin, for example, has described himself as an "ideologist" with Azov' National Militia. A group with himself and another Azov figure, Olena Semenyaka, have organized a neo-Nazi record label and shop that sells music with racist, anti-Semitic lyrics and paraphernalia with open Nazi symbolism at the Azov movement's Cossack House, just off Maidan Nezalezhnosti in central Kyiv.
In May 2019, Wotanjugend hosted an event called "Fuhrernight" in Kyiv, which featured Nazi flags and photos of Adolf Hitler on an altar surrounded by candles.
Wotanjugend's propagandizing, however, is largely online. It hosts a Russian-language Telegram channel of more than 7,000 subscribers, a channel which promotes open neo-Nazi content and valorizes violence; it's where the primary author of this piece first saw the vile first-person video of the Christchurch attacks. 
Over on Wotanjugend's website there are articles praising a number of Nazi-era figures, including Adolf Hitler himself, and links to songs by neo-Nazi artists — including Levkin's own band — that feature openly anti-Semitic, Nazi-praising lyrics. Their website also features articles about so-called "heroes": far-right terrorists, including 1995 Oklahoma City bomber Timothy McVeigh and Anders Breivik, perpetrator of the 2011 Norway attacks.
It's no surprise then to learn that, since March 20, 2019 — five days after the attacks — Wotanjugend has been promoting a Russian-language translation of the Christchurch shooter's manifesto. While it's not clear who may have actually translated the manifesto and whether it was an individual(s) associated with Wotanjugend, it's clear that the Kyiv-based, Russia-rooted neo-Nazi group has been at the forefront of promoting it online.
With more than 26,000 page views according to the site's own counter, the Russian translation of the Christchurch shooter's manifesto is the third-most popular article on Wotanjugend's website; the other two are now-unavailable music videos of a song (the same song) from Levkin's band that feature lyrics including "preachers of Kabbalah, offspring thereof/labour in Death Camps, burn in furnace fire." 
On Wotanjugend's Telegram channel, the post promoting the manifesto has more than 8,600 views, more than the channel's number of subscribers. And anyone searching for the manifesto online in Russian will easily find Wotanjugend's translation, as Bellingcat ourselves discovered using several different search terms that landed Wotanjugend's translation at or near the top of search hits.
But who's reading the manifesto on Wotanjugend's website? While the movement is currently based in Ukraine, there's little question that a large majority of the readers of the manifesto are in Russia. According to web traffic analysis site Alexa, 87% of Wotanjugend's web traffic over the last 30 days is from Russia. Fortunately, however, Wotanjugend is not a popular enough website to provide much more in the way of usable web traffic data, as an additional look at web traffic analysis site SimilarWeb suggests. Still, with more than 26,000 views over barely six months, to say nothing of other means of sharing, like private sharing, it's clear that there's a committed Russian-language audience for the words of a terrorist.
Promote, radicalize, inspire
Most of the coverage from international media about the Christchurch shooter's manifesto has, understandably so, focused on the influence and reach of the original English-language manifesto. In addition, most of those extremists who have admitted they've been inspired by the manifesto are in the United States or from countries with a generally high level of English language fluency (e.g., Norway, where the Oslo mosque attacker posted online in English before his attack). 
But those who translate and promote these manifestos have stated exactly why they're doing it. The individual on 4chan who claimed he translated the manifesto into Bulgarian made it clear why they had done so: to make it readable for a non-English-speaking public in the hopes of promoting a violent far-right extremist ideology, radicalizing readers and inspiring at least one of them to follow in the Christchurch shooter's bloody footsteps.