Murdered In Montenegro, Or Living In Suburban Virginia? Unraveling The 2017 American Spy Story
On September 10, 2019, CNN reported that the United States helped a Russian government official flee after working as a spy for American intelligence in 2017 — all reportedly due to concerns regarding President Trump and his administration's handling of "classified intelligence". The CNN report was sparse on details, but it was enough to identify a runaway Russian government official who fits the bill:
In a previously undisclosed secret mission in 2017, the United States successfully extracted from Russia one of its highest-level covert sources inside the Russian government, multiple Trump administration officials with direct knowledge told CNN. (…) The decision to carry out the extraction occurred soon after a May 2017 meeting in the Oval Office in which Trump discussed highly classified intelligence with Russian Foreign Minister Sergey Lavrov and then-Russian Ambassador to the US Sergey Kislyak.
There are two pieces of information in these CNN quotations that allow further investigation: The source was a higher-up in the Russian government, and the decision was made in May 2017, meaning that the escape from Russia likely happened either in May or June 2017.
The New York Times also reported on the "source" late on Monday, noting that he was recruited by American intelligence "decades ago". The Times also noted that this spy did not work directly with Putin, but was near him, likely pointing to an official somewhere in the Presidential Executive Office (also called the Presidential Administration):
The informant, according to people familiar with the matter, was outside of Mr. Putin's inner circle, but saw him regularly and had access to high-level Kremlin decision-making — easily making the source one of the agency's most valuable assets.
These two stories kicked off a search for a potential American spy who worked in the Russian government, leading to the re-discovery of the mysterious 2017 disappearance of a Russian official and his family in Montenegro. And although CNN and the Times did not initially name a potential informant — there has been plenty of direct speculation in Russia.
Who Disappeared From Russia In Mid-2017?
The most likely candidates for a high-level government source in Russia would be either a senior official in a key ministry, such as the Ministry of Foreign Affairs or Ministry of Defense, or Putin's powerful Presidential Executive Office, which seems closer aligned to the official detailed in the New York Times report. The sudden disappearance abroad of a mid-level or senior official from one of these governmental organs would surely raise headlines, and the disappearance of one such official did.
In September 2017, the Russian independent media outlet Daily Storm (no relation to Daily Stormer) published a story on the disappearance of Oleg Smolenkov, a long-time diplomat and official in the Presidential Executive Office, and his family, including his wife and three children. Smolenkov, per the Daily Storm report, went to Montenegro with his family on vacation on June 14, 2017, and had not been heard from again.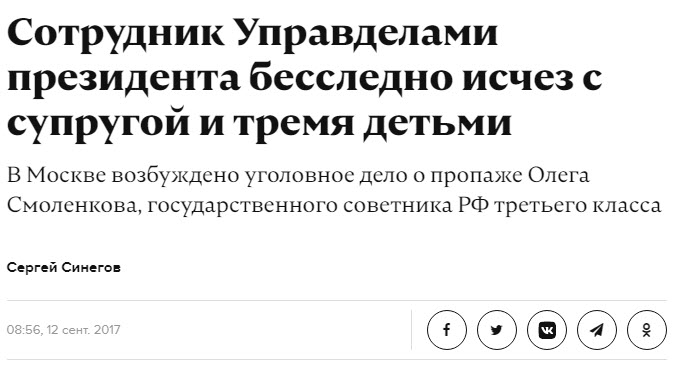 Russian authorities opened a murder investigation into the disappearance of Smolenkov and his family, but the matter was closed without resolution. As Daily Storm noted, Oleg's wife has two social media profiles on the VKontakte site (which were also found by Bellingcat, along with her Instagram and two Facebook accounts) that had logins a week after the disappearance, on June 21st. There has been no public-facing social media activity on VK, Facebook, or Instagram, outside of a VK login, since the family's June 2017 disappearance.
Smolenkov's Role In The Kremlin
Oleg Smolenkov was a fairly senior official in the Russian Presidential Executive Office, working under Yuri Ushakov, a long-time diplomat and current adviser to President Putin on international affairs. There is no easy one-to-one comparison of Ushakov to an American or European counterpart, but his role in being a direct adviser to Putin on international affairs has a rough approximation of Jason Greenblatt or John Bolton to President Trump, or Ben Rhodes to President Obama.
Smolenkov was a long-time aide to Yuri Ushakov, making him a potentially valuable source of information if he was indeed cooperating with U.S. intelligence services.
In a Telegram post, Ilya Shumanov, longtime expert on Russian internal affairs and corruption, wrote what he considered Smolenkov's role was within the Russian government:
"If it's true that the person who disappeared across the border with his family, Oleg Borisovich Smolenkov, actually did work for American intelligence, then this is not about 'some government clerk in the Office of Presidential Affairs' who fled across the border. Oleg Smolenkov was in the inner circle of Presidential adviser Yuri Ushakov. Up until his disappearance, he held the position of chief adviser in Ushakov's apparat. Back when Ushakov held the ambassador position in the United States, Smolenkov worked as a second secretary in the Russian Embassy. Before this, Smolenkov held various posts in the monetary-finance department and in the administrative apparatus of the Foreign Ministry. Smolenkov also worked in the Europe department of the Foreign Affairs Ministry, which had several years prior been headed up by his patron, Ushakov. From all this, we can say that Smolenkov was in Ushakov's inner circle for at least fifteen years."
The Russian government official who disappeared in 2017 is named Oleg Borisovich Smolenkov and was born in 1969 — a man named Oleg Borisovich Smolenkov born in 1969 has criminal violations (likely minor, traffic-related offenses) in Virginia in 2006, when Smolenkov was working at the Russian Embassy in Washington D.C.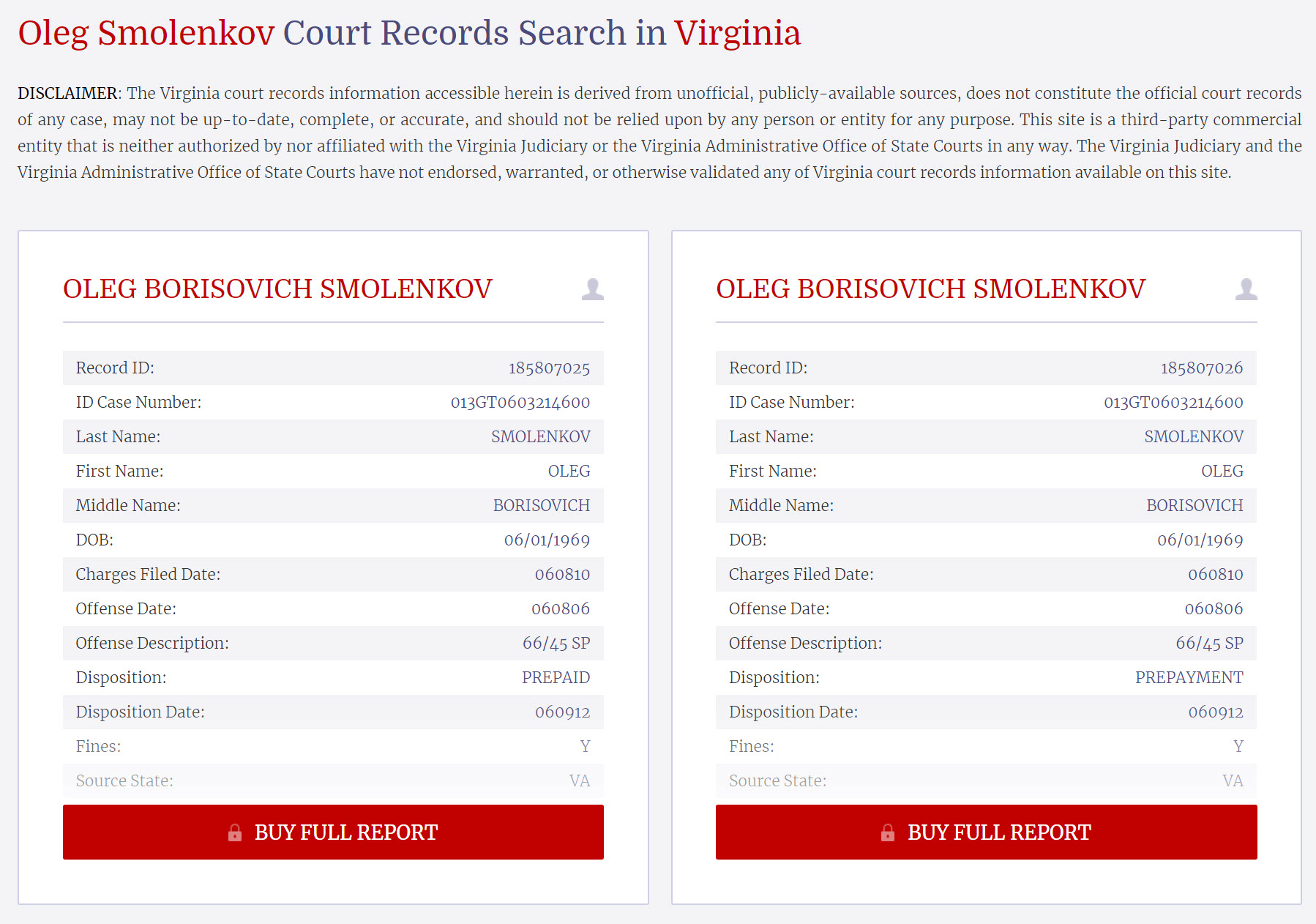 Furthermore, numerous open records corroborate the claim that Smolenkov was a Second Secretary at the Russian Embassy in Washington D.C.
Was Smolenkov The Spy?
Probably, but it may be more prudent to say he was a spy, and not necessarily the spy that CNN and the Times reported on.
While it is possible that Oleg Smolenkov, his wife, and their three children were all murdered in an unsolved case while on a family vacation in Montenegro, it's more likely they're now living in northern Virginia under government protection.
A series of records have been filed since June 2018 showing that "Oleg and Antonina Smolenkov" — the same names as the husband & wife who disappeared in Montenegro in 2017 — bought a house in suburban Virginia for $925,000. NBC visited the house and were soon greeted by "young men in an SUV" (apparently government protection) who were monitoring the residence and questioned the journalists.
A number of Russian media outlets, most notably the business daily Kommersant, have also reported on Smolenkov and his residence, with quotes from Russian government sources corroborating the claim that he fled Russia after working as some sort of intelligence asset. Additionally, Kommersant reported that the FSB discovered that Smolenkov was still alive and living in a different country after investigating his Montenegro disappearance. On Tuesday, Dmitry Peskov said that Smolenkov did indeed work at the Presidential Executive Office, and was fired "several years ago", making it unclear if he was fired before or after his disappearance to Montenegro. In comments on Tuesday, Russian Foreign Minister Sergey Lavrov underscored that he has never talked to or met Smolenkov.
While the dates for the reported operation to sweep away a spy from Russia to America aligns with the timeline of when Smolenkov and his family mysteriously disappeared in Montenegro, we cannot say with certainty that Smolenkov is the same spy detailed in these anonymously-sourced reports.
Instead, we can say that it is quite clear that Smolenkov was clearly acting as a spy or in a spy-adjacent role for the American government — it's hard to imagine another scenario to account for the Montenegro disappearance and men in black providing security for his house in suburban Virginia. With this in mind, he very well may be the same spy as the one described in the initial CNN report, but there is still the possibility that there is another spy who was whisked back to America at roughly the time as Smolenkov, thus causing some media outlets to conflate the two.
Conclusion
We at Bellingcat have uncovered the identities and activities of Russian spies and security service officers through a number of methods that often include mistakes from Russian bureaucracy and petty corruption within the country. For example, we were able to identify 305 GRU officers — though most of these men worked mundane desk jobs and weren't undercover agents — through a common car registration address, used to avoid traffic fines and the tax man. Last year, we also showed how Albania accidentally revealed the identities of many of its undercover intelligence operatives through exposed financial documents.
The easy identification of Oleg Smolenkov as a former Russian government official and apparent spy who fled Russia in 2017 through connecting a local media report (Daily Storm) and publicly available, Google-indexed property records in Virginia shows that a bit of digital sleuthing can show the apparent incompetence of intelligence agencies in America just as it has in Russia.